REGLAS PARA "EL SEÑOR DE LOS ANILLOS"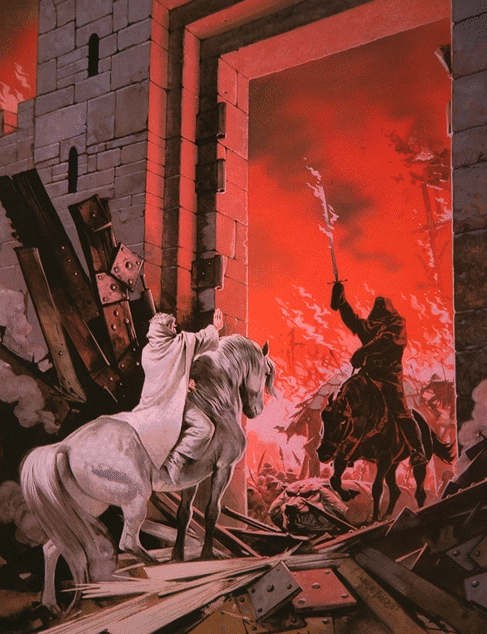 Para muchos aficionados a los juegos de rol, sobre todo aquellos que empezaron a jugar en algún momento entre mediados de los 80 y la primera parte de los 90, El señor de los anillos de Tolkien siempre estará relacionado con el juego de rol que publicó la editorial ICE. En ocasiones, alguien podía preferir usar un sistema algo más complejo, el de Rolemaster, para situar en él las aventuras de la Tierra Media, pero era muy raro encontrar a alguien que hubiese adaptado el mundo de Tolkien con un mínimo de seriedad a sistemas de juego como RuneQuest o Dungeons & Dragons. Una de las razones principales para no hacer esta adaptación era que, según muchos directores de juego, dichos sistemas de juego no reflejaban bien la esencia de la Tierra Media.
Durante años, acepté sin darle más vueltas esas sabias palabras dichas por aquellos que sabían de rol y de literatura fantástica mucho más que yo, pero con el tiempo no he podido maravillarme ante lo absurdo de aquel argumento. A fin de cuentas, ICE presentaba en su juego a clérigos que hacían magia divina (canalización, se le llamaba en el manual de reglas), algo que nunca se vio en las obras de Tolkien, y los magos de su sistema de reglas comenzaban siendo novatos y luego hacían hechizos muy específicos, que nada tenían que ver con la representación de los magos y de la magia que se ve tanto en El Hobbit como en El señor de los anillos. Cierto que Dungeons & Dragons no fuese el sistema mejor preparado para emular la obra de Tolkien, pero está claro que ICE tampoco las tenía todas consigo.
No sé qué sistema de juego emplearía si algún día quisiera dirigir una aventura en la Tierra Media. No creo que lo haga, la verdad, porque el mundo de Tolkien tiene muchas limitaciones (desde el punto de vista de adaptar un reglamento, quiero decir), y para tomarme libertades mejor es crear una ambientación propia que coja la esencia de Tolkien y la adapte a las reglas que emplee. En cualquier caso, me resulta divertido recordar lo seriamente que nos tomabas el emplear ciertas reglas con ciertas ambientaciones, como si alguien nos fuese a premiar por usar los manuales "como era debido".
2012-09-02 08:12 | 4 Comentarios
Referencias (TrackBacks)
URL de trackback de esta historia http://gadesnoctem.blogalia.com//trackbacks/72336
Comentarios
2

| | |
| --- | --- |
| De: Jeremy Vedder | Fecha: 2019-02-14 02:21 |

Teóricamente, prefiero escribir algo así: gastar tiempo y un esfuerzo real para crear una publicación realmente buena, pero, ¿qué puedo decir? Solo pospongo las cosas y nunca parece que haya terminado. shark fishing games
3

Nice quality content but I noticed the pages load rather slow compared to others. Maybe you should look into this so other visitors wont get annoyed.
4

What a great way to post such a nice article. I always wanted to see something like this. Great Post Keep it up.













Consigue mis libros
<
Septiembre 2023
Lu
Ma
Mi
Ju
Vi
Sa
Do
1
2
3
4
5
6
7
8
9
10
11
12
13
14
15
16
17
18
19
20
21
22
23
24
25
26
27
28
29
30
Documentos
Tu IP es:
Enlaces indispensables
CRISEI DIARIO DE UNA NIÑERA EN BIRMINGHAM (Alejandra Flores)